How to Keep Silk Flowers from Fading: Step-by-Step Guide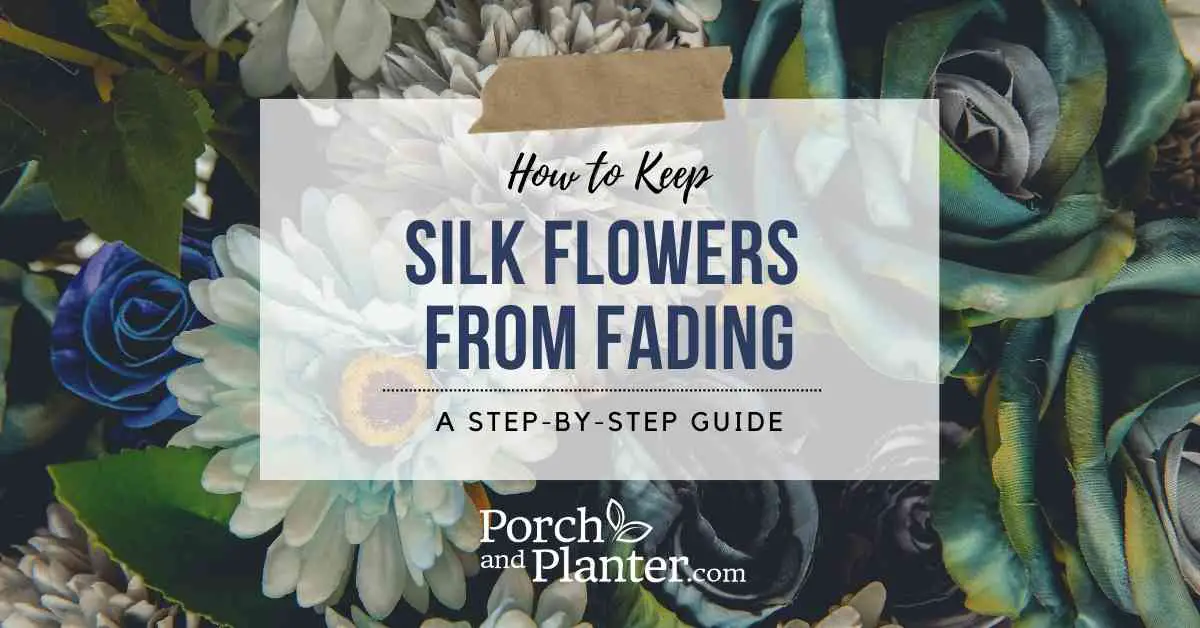 Porch and Planter is supported by our community. When you buy through links on our site, we may earn an affiliate commission. As an Amazon Associate, Porch and Planter earns from qualifying purchases.
Have you ever wanted to add a touch of nature to your home without dealing with the maintenance and upkeep that comes along with live plants? If so, silk flowers are a great way to do just that! Not only are they beautiful and long-lasting, but taking care of them is fairly easy as well. In this blog post, we'll be discussing how to keep those silk flowers from fading for years of enjoyment.
Can You Prevent Silk Flowers from Fading?
Yes, you can take steps to prevent your silk flowers from fading! Treating them with a UV-resistant protective spray is the most effective way to safeguard your flowers. In addition, it's important to keep them away from direct sunlight, use protective covers or shades, rotate them to ensure equal sunlight exposure, avoid harsh cleaning methods, and store them properly in a cool, dry place away from direct sunlight, plastic wraps, or humid environments. These preventive measures can help extend the lifespan of your silk flowers and keep them looking vibrant and fresh for years to come!
How to Keep Silk Flowers from Fading
Keeping your silk flowers looking like new is easy when you follow these steps!
What You'll Need:
Step-by-Step:
1. Dust the flowers with compressed air or a vacuum
Start by using a can of compressed air to remove dust and debris from the surfaces of the flowers. Alternatively, you can use a vacuum with a brush attachment to get rid of dirt and grime.
2. Wipe them down with a damp cloth
Use a damp cloth to wipe away any remaining dirt or residue on the petals, leaves, stems, and other surfaces of the flowers. Make sure that you don't soak them too much – as this could cause damage in the long run.
3. Lay the silk flowers out on a newspaper
Once cleaned, lay out some newspaper so that you can spray on the protective coating evenly without it getting onto anything else.
4. Spray a UV-resistant protective spray on them according to the package directions
Using a UV-resistant protective spray will help prevent fading from direct sunlight exposure over time! Be sure to read all instructions carefully before using, and keep away from any open flames while spraying onto your blooms!
5. Let dry
After coating each side of each bloom, let them sit undisturbed until they are completely dry.
6. Repeat steps 4 and 5 until all sides of the flowers are evenly coated
Some silk flower arrangements may have multiple layers that need protection. Repeat these steps for each layer separately in order to make sure all sides are adequately coated with UV protection.
Storing Silk Flowers to Prevent Fading
Whether your silk flowers are inside or outside, proper storage when not on display is key in order to preserve their color and vibrancy over time. Here's what you need to know in order to keep them looking like new.
1. Store Them Away From Sunlight
Direct sunlight can cause silk flowers to fade quickly, so try storing them in a cool, dry place out of the sun's reach.
2. Keep Dust Away
Make sure to store your silk flowers in airtight boxes. The silk that the flowers are made of traps dust quite easily.