When Should You Cover Patio Furniture? – When to Use Covers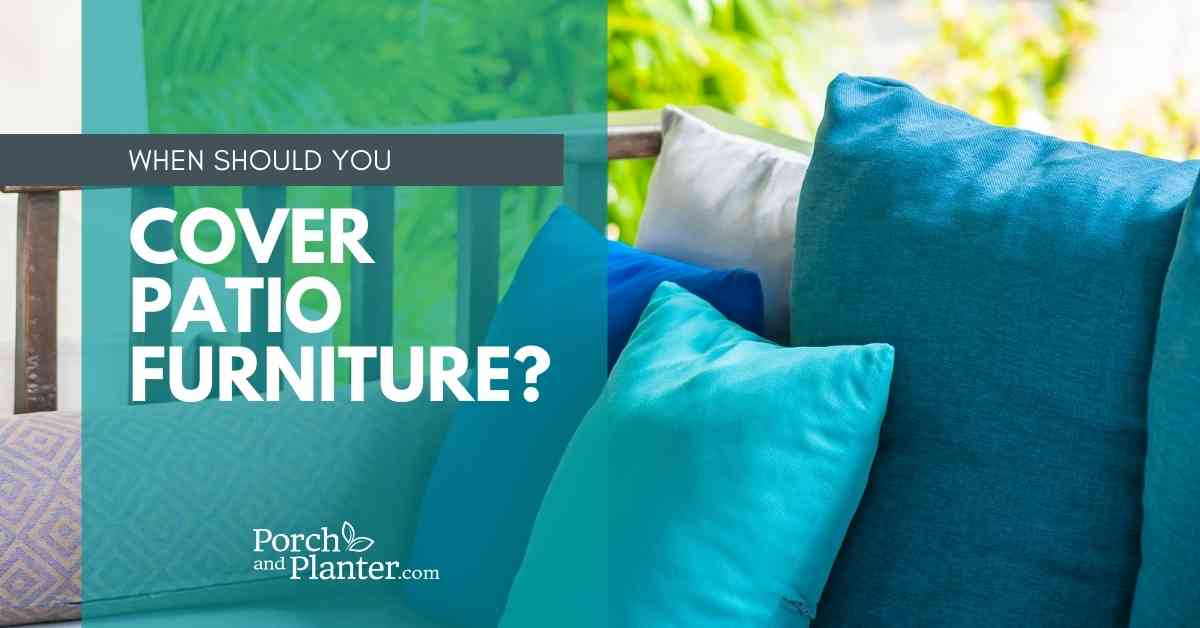 When should you cover patio furniture? If you are looking for a way to protect your patio furniture, there is no better time than now. We have compiled the perfect guide for when you should cover it and what times of the year would be beneficial!
When Should You Cover Patio Furniture?
You should cover your patio furniture year-round. There are a number of different things covers can protect your patio furniture from in each season, including UV rays from the sun, rain, snow, pests, dust, pollen, and allergens.
Spring
In the spring, patio furniture covers will protect your furniture from the UV rays of the sun as the days start to grow longer. Patio furniture covers also act as a great barrier to keep pollen and other allergens off of your furniture when all of the flowers are in full bloom. They can also help prevent animals and insects who are looking for new nests for the year from selecting your patio furniture as their new home.
Summer
In the summer, the sunlight is strong, so patio furniture covers will offer important protection against UV light. In sub-tropical climates prone to heavy seasonal rain, you'll also want the added protection patio furniture covers offer against water damage.
Fall
In the fall, the air gets dryer and the weather gets colder, but the UV rays of the sun can still harm your patio furniture. Patio furniture covers will also keep falling leaves off of your furniture and keep out any critters looking for a good place to cozy up for winter.
Winter
In the winter, you'll want to cover your patio furniture to protect it from UV rays from the sun. Despite the cold weather, the sun can still damage your furniture. Covering your furniture also keeps water or snow off of it, which can freeze in cold winter temperatures and harm your furniture.
Benefits of Covering Patio Furniture
It's important to protect your patio furniture from the elements, which is why covering it when you are not using it is a great idea. It can be difficult for many people to find time throughout their day or week to cover outdoor furniture before the rain hits and then uncover it after the rain has passed. However, this process will only take a few minutes of your time.
Covering your patio furniture will help ensure that it lasts longer because of less exposure to the elements, like rain or sun, which can damage the pieces because the UV light breaks down its material over time. And as long as you have an easy-to-use cover, you will be able to keep your furniture dry during the rain and uncovered when it is nice out.
Covers also minimize any risk of infestation from pests. Pests like ants are attracted to moisture, so they often make their way into wet wooden pieces that have been unused for an extended period of time.
Patio furniture covers can also minimize the amount of dust, pollen, and other allergens and debris from accumulating on your furniture.
What to Look for In Patio Furniture Covers
When looking for the perfect patio furniture covers, it's best to find ones that are tailored to your climate. Do not buy a cover that is too thin to protect the furniture. Patio furniture covers should be able to stop rain, snow, and wind from penetrating into the fabric of your outdoor living space. It also helps keep bugs off so you can enjoy your patio longer without feeling like there's always something crawling on you!
Furniture covers come in many different shapes and sizes so they can be used on any type of furniture set up you may have. Most cover the entire piece but some are designed to only go over one side or corner of your patio furnishing.
A good cover should be made of a durable material that will keep your furniture dry and clean. It should also resist tearing or ripping so you won't have to buy replacements often. Many are machine washable, which makes it easy to maintain the quality for years to come. Others can simply be hosed off with a garden hose, which is just as effective.
Tips on Getting the Most Out of Your Patio Furniture Covers
Now that you know all the benefits of patio furniture covers, it's time to learn how to get the most out of them!
If you live on the coast and anticipate stormy weather, try to get the cover on your patio furniture before it rains.
Wash any dirt off of patio furniture before covering it up with a protective layer if possible for a better-looking and longer-lasting product.
Keep the covers clean by hosing down with water when they get dirty; then let it air dry.
When storing patio furniture covers, always make sure they are away from direct sunlight and other heat sources that could damage the cover's quality.
Patio furniture can be exposed to hours of direct sunlight eventually causing fading or discoloration. It also sits out in the rain and snow year-round, which can take its toll. Patio furniture covers help protect against direct sun exposure and the elements. With the right use, they can prolong the life of your furniture for years to come!